Cassini Grand Finale Death Dive to Occur on Friday Orbiting and studying the ringed planet since 2004, NASA's Cassini spacecraft has unlocked a veritable treasure trove of information about Saturn, moons and our entire solar system. From breathtaking photos to…
Are All Stars Born in Pairs? Shocking New Evidence of Stellar Twins Separated at Birth. Every star forms deep in a molecular cloud. Basically, areas of the cloud begin collecting more and more mass, causing incredibly dense lumps. Ultimately, overpowered by its own…
Carl Sagan "Billions and Billions" Review by Astronimate TITLE Billions and Billions: Thoughts on Life and Death at the Brink of the Millennium AUTHOR Carl Sagan RATING SUBJECT(S)…
Neil deGrasse Tyson Origins Review by Astronimate TITLE Origins: Fourteen Billion Years of Cosmic Evolution AUTHOR Neil deGrasse Tyson / Donald Goldsmith RATING SUBJECT(S)…
Alan Lightman "Accidental Universe" Review by Astronimate TITLE The Accidental Universe: The World You Thought You Knew AUTHOR Alan Lightman RATING SUBJECT(S) Astronomy,…
Christophe Galfard The Universe in Your Hand Review by Astronimate TITLE The Universe in Your Hand – A Journey Through Space, Time, and Beyond AUTHOR Christophe Galfard RATING…
Brian Greene – The Fabric of the Cosmos Review by Astronimate TITLE The Fabric of the Cosmos: Space, Time, and the Texture of Reality AUTHOR Brian Greene RATING SUBJECT(S)…
Milky Way Distances Explained: A Voyage Through Our Home Galaxy Indeed, our universe is truly gigantic. But, even small parts of our universe are still absolutely vast. In fact, even our home galaxy proves truly mind-boggling when it comes to distance. So, just how…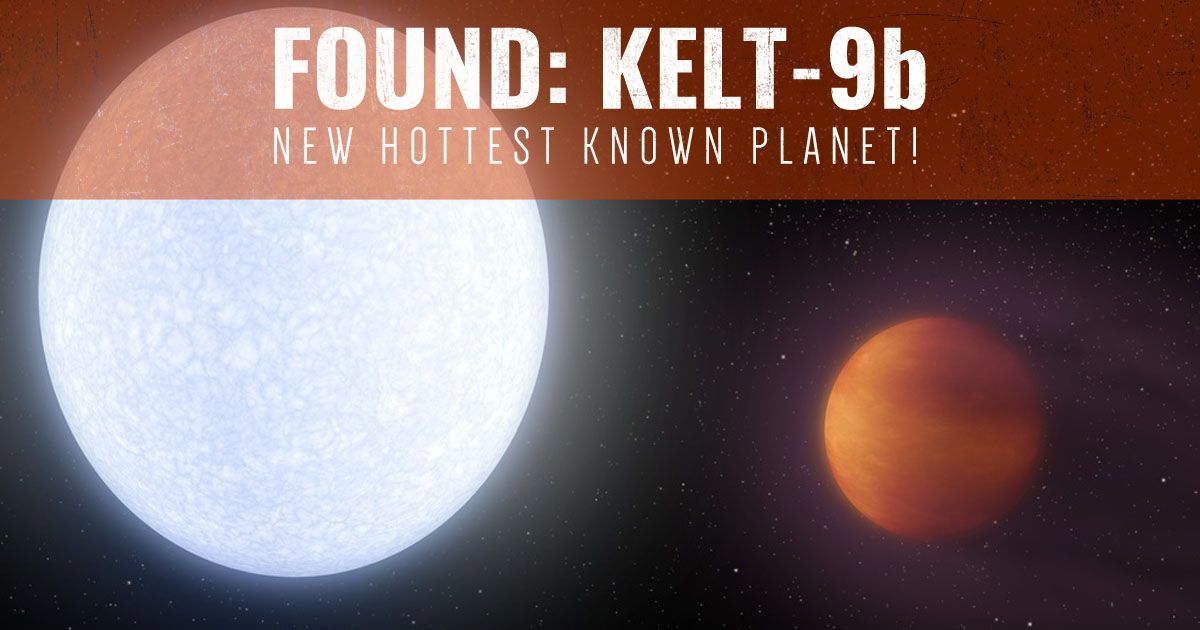 FOUND! New Hottest Known Planet, KELT-9b is Hotter Than Most Stars Since confirming our first official exoplanet discovery in the early 1990s, we have spotted all shapes, sizes, speeds and more. However, this week crowns a new champion for hottest known planet,…
About Articles
We all want to know more about the universe. After all, it's where we live, it's where we were created, it's a giant mystery. But, how many times have you read into a topic about the universe and been left completely confused? Our goal is to change that and leave you feeling informed about space, astronomy and more!
The truth is that no human being "gets" space, because it's so much bigger than we are. But, there's no reason that all of us can't understand some of its complexities. Astronimate's astronomy articles are specifically written so any person can walk away with the feeling of I get that.
We only use layman's terms. If something gets too deep, we always explain it and use images and/or videos to help bring it home. Plus, if ever you should have lingering questions, chances are, we have a video, list or quiz about the topic.